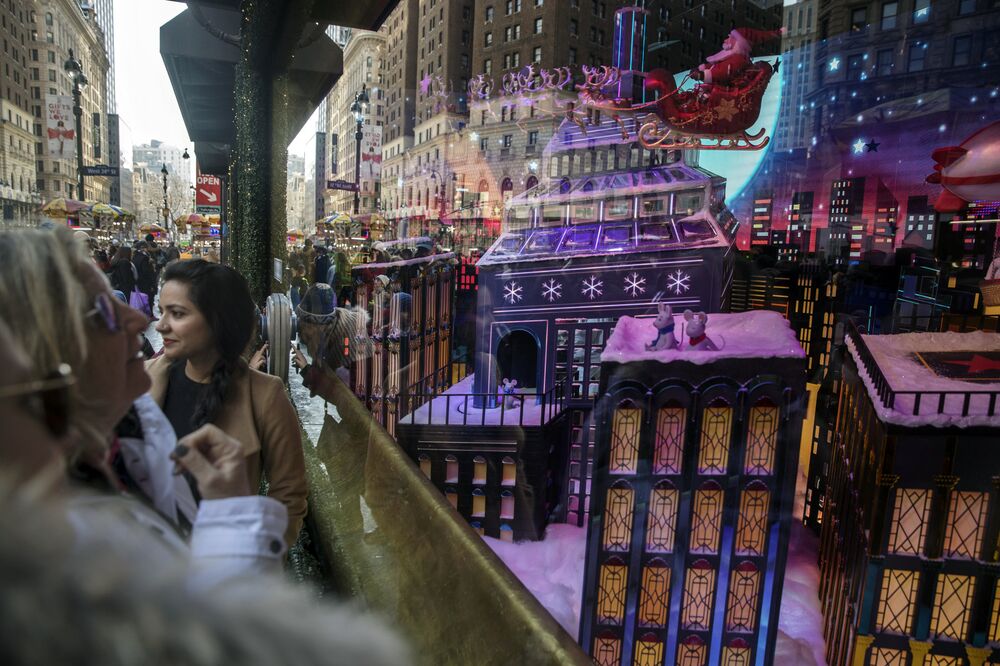 With consumer spending surging, retailers are hoping for something they haven't seen since the last recession began a decade ago: a truly great Christmas.
The Commerce Department reported better-than-expected U.S. retail sales for November and revised its October figures upward, bringing a fresh wave of optimism to a long-embattled industry.
Holiday shoppers are snapping up Nintendo Switch devices and Fingerlings toys as their disposable income grows, according to Craig Johnson, head of the Customer Growth Partners. His research firm just boosted its forecast for holiday sales to 5.6 percent, well above the 4.3 percent it had targeted earlier.
"We think this marks the beginning of a real and sustained rebound," Johnson said in an interview. After tracking the 50 largest retailers across 90 major shopping venues, he believes that spending will grow more this season than in any holiday since before the Great Recession began in 2007.
"It's all demographics, and it's geographically widespread," he said.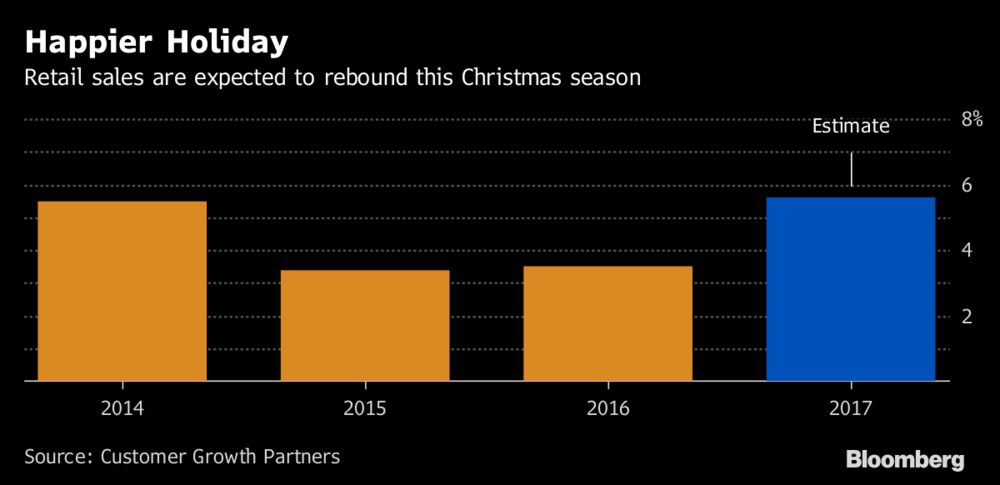 Austin Kreitler, a 21-year-old college student in New York, is one shopper who is ready to open his wallet this holiday season.
"I definitely spent more this year than I have in previous years," he said during a visit to Bloomingdale's in Manhattan. "I got some novelty things, but I also got my mom a pearl necklace and earring set."
E-Commerce Growth
The spending uptick is good news for retailers of all stripes, but some are faring better than others. Online spending growth is expected to outpace brick-and-mortar expenditures, and plenty of companies are still struggling.
Pier 1 Imports Inc., the home-furnishings chain, saw sales weaken in the first two weeks of December. The slow start to the holiday season weighed on the company's fourth-quarter forecast, sending the shares on their worst rout in almost three years Thursday.
Traditional retailers are increasingly chasing online dollars. Wal-Mart Stores Inc. has acquired web brands such as Jet.com and Bonobos, and it's offering two-day free delivery to entice shoppers. Target Corp., meanwhile, agreed to buy e-commerce startup Shipt Inc. this week for $550 million, aiming to challenge Amazon.com Inc.
The greater emphasis on online orders may be one reason why a rosier holiday season isn't translating into traffic gains at many malls. During Black Friday, foot traffic was down slightly for the second year in a row, according to data compiled by Prodco Analytics and Bloomberg.
Genevieve Domingo, a shopper who was trying on boots at Bloomingdale's, said she's getting most of her gifts online this year, including a Game of Thrones drinking horn and a DNA kit for her brother.
Broad Gains
Merchants without physical stores saw their biggest sales gain last month since October 2016, the Commerce Department reported on Thursday. But retail growth was broad-based, with 11 of 13 categories posting increases. Apparel sales had their third straight uptick, the longest such stretch since mid-2014.
The numbers indicate that household spending, which accounts for about 70 percent of the economy, is picking up during the final stretch of the year. The job market remains strong, with solid hiring and an unemployment rate that's the lowest since December 2000. In addition, stock-market gains and rising home values are boosting household wealth.
If this season's sales reach Customer Growth Partners' target, it would be the best holiday performance since 2005. The industry posted a 6.1 percent increase that year, when the economy was still booming and a red-hot housing market was fueling spending.
Tax Cut?
One wild card is the tax bill wending its way through Congress. The legislation promises to to lower the burden for households by doubling the standard deduction, but consumers who can't withhold as much of their state and local taxes could lose some spending power.
The National Retail Federation, the industry's biggest trade group, has argued that consumers are spending more this season because they anticipate a tax cut. About 174 million Americans shopped during the long Thanksgiving weekend, 10 million more than expected, the organization said.
"All in all, it's really portending for a very solid and maybe one of the best holiday seasons that we've seen in years," Jack Kleinhenz, the NRF's chief economist, said in an interview. "We'll have to wait and see how December plays out."
— With assistance by Matthew Townsend, and Sho Chandra
Bloomberg
Photo credit: Pedestrians view a holiday window display at a department store in New York.Photographer: Victor J. Blue/Bloomberg